Welcome to Airsoft CT's Airsoft Tactical Gear Reviews!
Welcome to Airsoft CT's Airsoft Tactical Gear Reviews!
Be sure to check back for updated airsoft tactical gear reviews on many of the newest tactical gear products to hit the shelves, along with some older items for good measure. We aim to find the best equipment out there for specific needs and provide an honest opinion as to it's ups and downs. Each review will be broken down into general impressions, packaging, build quality, testing and final thoughts.
Feel free to discuss each review in our Reviews Section of our Forums
Zahal.org IDF Improved 2 point Rifle Sling
Mon May 16, 2011 11:24 am // 4 comments // Binky
http://www.zahal.org/products/idf-impro … ent=153417
So, like I tell my wife, this will be a quickie.
I had bought a TAR-21 recently and figured hell, if I'm going to be using an Israeli replica, why not get a proper sling for it as well. A quick search led me to Zahal.org which has a number of slings and other IDF items.
@ 24 bucks I figured what the hell and ordered their improved 2 point sling. I took about a week to get to my house, and came in a simple bubble wrap envelope folder over itself with a rubber band to keep everything in place during shipping. Also included was a nice little Zahal.org magnet. My fridge is now that much more bad ass.
The sling itself exceeded my expectations. Despite being Israeli, the sling is uncircumcised. It has sleeves that go over the reinforced metal clips that mount to each point on the gun. This prevents anything reflective from being shown and cuts down on the noise I get from, lets say, moving with my SAW sling. Metal on Metal noise and metal on plastic nose is greatly reduced due to this.
The band itself is a nice wide 3 or so inches and provides plenty of comfort and support when worn. I was able to keep my weapon right where my hand can grab it and it allows for easy shouldering with out interference of any kind. The adjustment buckle on it is of the same high quality metal as the clips. The clips take some force to open up as well due to the thickness. I don't expect to ever have these inadvertently get pressed in on my gear or other environmental objects. There is also a small pouch that seals with velcro to hold ear plugs or other VERY Small items. I hear CAPAirman keeps a condom in his, ya know to protect the ladies from his HIV.
Zahal offers other slings of a similar build with IDF Special Forces insignia's on them as well if any of you are into that sort of thing. They also have a single point bungee sling in multiple colors.
Color choices for this one are limited to olive drab and black. Tan would have been nice, but with the comfort and security this sling offers, that's simply nit picking.
Pictures:
Heavy duty metal Sling Mounts

Same sling mount with sheath over it (circumcision joke should make sense now)

Front mount on TAR-21

Velcro Sealable pouch – probably for ear plugs

Adjustment Buckle

Represent:

NcStar PALS/MOLLE Tactical Vest with Hydration pack
Tue May 03, 2011 11:31 am // 0 comments // WARLOCK
I just picked this up off of Amazon(free shipping) for $29.00. Hot Spot also has it for $29.00.
I got the Tan version, I also have a few Condor M4 Double-Double Mag pouches. The Color is basically identical, with the Condor being slightly darker; however when placed together you really can't tell the difference.
This is a mesh vest with buckles instead of a zipper. Definately going to be cooler in the summer heat. The PALS/MOLLE covers the entire vest.
Structurally seems very sturdy. I've given it a few tugs to still the quality and it didn't give.
Okay, now for the in-depth:
Seams– double stitched about 1/8″ apart throughout entire vest.
Velcro- Velcro strips on left and right upper torso for name tapes: 5″; Velcro on top flap on
Hydration Carrier 8 1/2″ by 1 3/4″, underneath are 2 more strips 10″x 1″ and 8″ x 1″
Hydration carrier- standard size insulated, straps on side of vest for keeping the tubing secure and out of the way.
Shoulders- Adjustable velcro, completely opens for removal if neccessary. Has drag strap.
Inside- 2 zippered map pouches also velcro at top for quicker access.
I will update this more and give a picture of mine once I have added all of my pouches later this week and try it out at the GZA training on Sat.
Has sling rings on shoulders
The one off Amazon has battle belt with 2 pouches, Hotpsots didn't come with it.
Z-Tactical Sordin (replica)
Fri Apr 08, 2011 10:07 am // 0 comments // HAVOC
PREVIEW
I just got my replica MSA Sordins made by Z-Tactical.
I bought these because I've read that they are better quality than the Element branded ones.
I'm waiting for my PTT to arrive so I don't know how they work with a radio yet.
The noise canceling function works. Ambient sound is muffled like wearing ear protection but when you turn the headset on it amplifies sound.
I tried the headset out while watching a vid on youtube.
There is an long audible tone when the headset is turned on/off. A short tone when adjusting the volume.
No manual is included. I did not know how to insert the batteries. I went on the internet to see how batteries are inserted into real MSA Sordins.
The replicas are no different. The batteries are a tight fit. 2 Energizer AAA batteries were included.
I'll bring them to a game to see how audio quality is and update this post.
Paid about $100 with shipping.
Revision Eyeware Bullet Ant goggles
Fri Feb 04, 2011 3:07 pm // 1 comment // Horsem4n
Intro:
Recently, a company called Revision decided to start a marketing campaign within the airsoft community and opened up a sub-forum on arnies airsoft (mainly) among some other forums. to kick it off, they set up a topic to give away a pair of their Desert Locust fan goggles, specifically the essentials kit. the rules were simple, just post your tag as a reply in the topic and they will randomly generate a winner. i happened to be that winner and i feel i owe them a proper review.
First Contact:
when i received the message that i had won, i obviously jumped for joy for winning one of the best goggle systems on the god damned planet and then proceeded to ask for them to send me a pair of the Bullet Ant goggles instead of the DL goggles as i needed a lower profile goggle system for my personal choice of head gear, the baseball cap (sometimes ill wear my pro tec helmet though). and being the awesome company they are, they agreed. they also nicely asked if i wanted them to use my tag in the announcement post that the drawing was over. of course i said yeah because i wanted to rub everyone's collective face in it and spread jealousy brand win juice into their eye sockets.
Shipment:
after that, they sent me a message saying that they had sent out my package and a day later it arrived at my house (fedex delivered it in a snow storm at night). it only took a day because they are based in Vermont, only around 150 miles away from my house. but, i couldn't touch it until yesterday because i was stuck at work for 3 days due to the weather…
Box Opening:
after i got home i opened the shipping package inside was the box for the goggles (deluxe bullet ant kit
) and the RX carrier i also asked for, no packaging material. i believe even my fathers new Kevlar vest came in a box with packaging material, but everything was undamaged, so i guess it doesn't matter. the deluxe kit was supposed to include an anti fog wipe, but i didn't see one. if there is a hidden compartment in the carrying case that its in, i haven't found it. however, i'm not going to bother revision about it, though they will probably just send me one if i ask.
First Impressions:
the goggles came with a belt mountable carrying case with space for both extra sets of lenses, the goggles themselves and a separate compartment that seamed like it was made specifically for the RX carrier. other stuff included were tinted lenses (pre-installed), clear lenses, high contrast yellow lenses, a microfiber slip on goggle cover and and microfiber cleaning cloth. i quickly donned the goggles (with my glasses on just to find out first and foremost if they fit over them) and found that they actually do fit over glasses. i was like
and i'm still surprised that a goggle system with this low of a profile fit over my medium sized frame glasses without pushing them into my face, that's why i also asked for the RX insert cause i thought they wouldn't work. the goggles are super flexible with the only rigged objects being the lenses themselves and the fitting devices on the elastic strap system. they use a rubber system for the seal against the face, like classic army goggles, instead of foam. i was worried that it may be uncomfortable, but the rubber is very soft and sits very comfortably on the face.
Goggle Features:
the best thing about them is just how good the lenses are. they are thicker than most goggles on the market, have an anti fog/anti scratch coating and have NO optical distortion whatsoever. no waviness or distortions near the edge, have a very wide angle of view (cant see the left and right most edges in my peripherals) and the clear lenses let in A LOT of light if not 100% (very easy to see through). their formal and informal test show that most smaller projectiles cannot penetrate the lenses. close range shotgun blasts and shots from 22s could not penetrate the lenses, so i feel very safe behind these in a scrimmage. though if i ever take a shotgun blast to the face, i doubt my eyes are my biggest worry…
the ventilation looks ok and it does have foam in it for particles and stuff. there's no real way of telling if these things have good stand alone protection against fog until i get into a scrimmage, but that still not going to happen for a while yet. i have them on as i type this to see if anything will happen while i work. i feel though that the goggles wont fog, but my glasses will. that's what happens in my bolle' goggles.
the straps have 2 sizing couplers. the normal friction one that you slide around to size it and the other has a latch that acts more like a quick release device than a 2nd sizer. pretty much used to put on and off the slip on cover. the style of the goggle is pretty cool. designed after the bullet ant, hence the name and the vents are in a hex pattern. they come in black and tan colors, i got black.
Changing Lenses:
since they came with the tinted lenses installed, i had to change them out to the clear ones. i don't need tinted lenses because my prescription glasses are photosensitive and darken based on lighting condition anyway. the process was easy, but not quick. thanks to the flexible frame, you just have to hold the lenses and pule the frame away from them, detaching the frame from the notches in the lenses. the frame was flexible enough to make it easy, but stiff enough to keep them in, even when struck directly. took around 5 minutes, but i didn't run into any part of it that made it tough. then a quick wipe down with the microfiber cloth got rid of my grimy ass fingerprints.
Action Report:
ill talk about this once i feel i have worn them long enough and been through a scrimmage or 2.
Conclusion:
I am very happy with them. they are great goggles for a base price of $60 (off ASGI, which have great prices for these things, $120 for the deluxe kit i got). if i had bought them, im sure i still would have been happy. the amount of protection, the comfort, the features, the included accessories and the compatibility with hats and glasses is everything i wanted in a pair of goggles. so if you can, go revision. i would have liked to check the fan goggles out, as i have been wondering what a high quality pair sounds like and how well one works because i have owned a low quality clone of the marui fan goggles and it sounded like i was waring an airplane and had extremely uncomfortable, ridged frames that didn't sit on my face correctly (the bridge of my nose is a bit higher than other people), but i needed the bullet ants to fit my needs.
Picture Gallery:
will upload some pics soon
Review: Safariland 6005
Tue Jan 18, 2011 12:14 pm // 5 comments // Caboose
HISTORY AND BACKROUND:
Safariland has been around for more than 45 years, and has made some of the best and most innovative products for the law enforcement, competitive shooting and military industries. Neale Perkins launched a holster business from his garage in Sierra Madre, California in 1964. The company became named after the African safaris he and his father did together. Since then, Safariland quickly went from making a few holsters to more than 5,000 within a few months. (All information above was taken from Safariland's website directly)
ORDERING:
Ordering the Safariland was as simple and easy as any other airsoft product thus far. You are asked to fill out some questions, such as address, email, credit card information, and a coupon code (may vary).
SHIPPPING AND DELIVERY:
As far as shipping goes, the options are up to you. It can change from Next Day Air (one day delivery), to Ground (five to seven business days delivery). After you open the box and having a field day with the bubble wrap and shipping peanuts, you should fine it in a Safariland clear bag (made of thick plastic).
MATERIALS:
The holster is made from a heavy duty plastic. Safariland calls this their "Thermal-molded SAFARILAMINATE" construction, which is excellent at protecting the weapons sights.
BODY AND FUNCTIONS:
The Safariland 6004 holster is built for comfort as well as functionality. The holster features a Self Locking System (SLS) rotating system which is excellent for tactical situations encountered today. The hood on the 6004 holster can only be released by being simultaneously pushed down and rotated forward and actually becomes more secure when upward force is applied. The STX Tactical finish of the holster is rugged, protecting the gun in scrape, scratch and dent incidents. Molded sight track and soft material inside the holster, which Safariland calls "SafariSuede," protects the gun's sights and finish. A special feature of the 6004 holster is the double leg strap and the leg shroud. These two features combined equal comfort and stability in the holster position on the leg. Another awesome feature is the adjustable tension. This allows the user to adjust the tension in the holster, against the weapon. This way, it is not wobbling around inside the holster, it is nice and secure.
PROS:
• Comfortable
• Versatile
• Sturdy/ has much stability
• Made of excellent material
• Interior padding to keep your weapon from scratching
• Adjustable tension to keep your weapon secure
• Looks awesome
CONS:
• Personally, I found that it is not as easy draw your weapon from this holster as fast as a Serpa tactical holster. The reason for this is because; to draw the weapon you have to use your thumb and push down and forward, as appose to the Serpa where you only need to push down with your finger to release tension. Again, this is a Con for me personally and nothing to do with the manufacture.
• That's it!
PRICE AND RETAILERS:
The Safariland 6004 holster is available at the following locations:
• http://www.safariland.com
• http://www.copquest.com
• http://www.copsplus.com
• http://www.opticsplanet.net
• http://www.lapolicagear.com
• http://www.uscav.com
• http://www.galls.com
The price new from these great retailers can range anywhere from $117 to $150. The price change is determined on which weapon type is made to fit.
CONCLUSION:
I give this product nine out of ten. The reason for this is because of the build, comfort, and durability. I did not give this a ten out of ten is because it is not as "High Speed" as a Serpa holster. Once again, this is only a personal preference.
In conclusion, I am extremely pleased with the holster. Safariland continues to make outstanding equipment for personal/recreational, law enforcement, and military equipment. This is an outstanding product, and will last you many uses to come. You go Safariland!
TRIJICON RX30-51
Thu Nov 19, 2009 11:58 pm // 7 comments // SGT Yu
It have been a while since I last decide to play around with new optics or equipment, so here it goes the latest project/purchase. I just ordered a set of the Trijicon RX30-51.
Anyone have any review or experience with it? I am getting tired of using my EoTech 511 and 550. So I've decided to go back to my original mindset of Trijicon. If no one have any reviews on it, I will provide one upon receiving it. From what I've done on research, the price seem to be the same as compare to the 511 or 551 EoTech, but one thing that draw me to it is no need of batteries. [/img]
Tad Gear Robin Hoodie SS
Wed Oct 14, 2009 8:35 pm // 1 comment // Viola
This is my second piece of gear by TAD that i own, and like the rest of their stuff, it is top notch.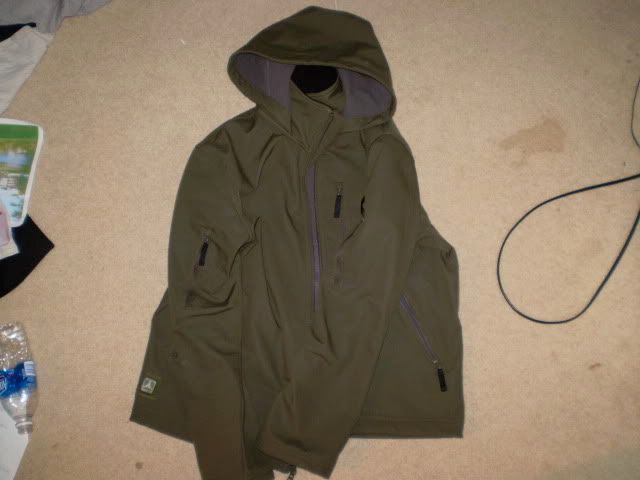 I have a Shark skin Stealth Hoodie that i got about a year ago from TAD that i really like. A soft shell is essentially a Wind proof, water resistant, breathable layer. I really like my Stealth Hoodie and its perfect for layering which is exaclty what its made for. But, the velcro and no liner was a bit of a turn off for me. I wanted something that i could wear as a stand alone jacket that worked like a softshell but was more casual for school and around town.
The Robin Hoodie is exaclty that. It comes with all the normal awesome pockets that i like with some extras. There are two arm pockes, a chest pocket, two handwarmer pockets (something the Stealth lacked), and two lower back pockets. The arm and chest pocked also have rubber groments in them for wiring an ipod earbuds or the like.
The Robin Hoodie, is fleece lined in the jacket and in the hood. The front zipper zips the jacket all the way up to your chin, almost like a turtleneck. It is also wind proof and water proof like most softshells, but i do not think it is as breathable. The fleece liner kinda prefents that i think.
Some Cons, the lack of pit zips is really kind of a turnoff for me. I feel like it gets a bit toasty in there when doing any bit of movement and there is no way to really let some more air in. That is the only real flaw i have with it. It is also cut a bit different that the stealth hoodies. Its cut smaller because it is a stand alone jacket you dont have to factor in for layering. I wear a size large in the Stealh Hoodie and my Robin Hoodie is a medium.
I would give this a 5 out of 5. It really fulfilled everything i was looking for in a casual soft shell jacket.