Welcome to Airsoft CT Airsoft Upgrades Reviews!
Welcome to Airsoft CT's Airsoft Upgrades Reviews!
 Be sure to check back for updated airsoft reviews on many of the newest electric airsoft guns, batteries, and airsoft accessories to hit the shelves, along with some older items for good measure. We aim to find the best equipment out there for specific needs and provide an honest opinion as to it's ups and downs.
Each airsoft upgrades review will be broken down into general impressions, packaging, build quality, testing and final thoughts.
Feel free to discuss each review in our Reviews Section of our Forums
surefire quick disconnect silencer review
Sat Nov 12, 2011 8:09 pm // 3 comments // subcadet21
well after installing and using the surefire branded quick disconnect silencer today on my m4 I must say it was an excellent add. Granted all it really does for you is add looks but if you don't want a silencer on when you move to a tighter quarters you can simply unlock and pull off and throw it in a dump pouch or pocket and BAM!! you have a regular black flashhider/compensator on your gun. I would definately recommend it for people looking to add looks to their gun but I would watch the price as they are 85bucks luckily I got mine in a mystery box so it pretty much cost me nothing. I'll have to see if I can't get some pictures up and post them along with the review on it but if anyone is going to be at grab and go and wants to take a look let me know I'll be more than happy to let you mess around with it.
|Review| Bravo 4×32 ACOG Scope with Mini RedDot
Fri Mar 05, 2010 8:17 pm // 2 comments // sonjamichelle
I picked up this sight for my Classic Army M4A4. Initial selling points were the mini red-dot and the picatinny mount.
Packaging was just a plain brown cardboard box with a product name sticker on one side, nothing really exciting. Opening the package the sight is wrapped in plastic and snugly nestled in soft form fitting foam padding. Inside the package are; 1 dove tail mount, 1 mini mount for separate mounting of the red-dot, protective cover for the red-dot, 1 backup iron sight ring and several screws. Included were 2 CR2032 batteries as well. This was a pleasant surprise, I had gone out a purchased a pack of batteries the day before.
Pulling the sight out I was pleasantly surprised at the weight of this sight. It's not really large, but is made of metal with very little plastic content. I think the only plastic on the sight is the red-dot and the thumb screws. Overall construction seems pretty solid with a nice matte black finish. There are no trades or model numbers that you would find on a true Trigicon sight. Absent as well are the biblical codes. There is no cosmetic fiber optic running across the top of the sight like you'd find on the Bravo Scope 4×32 with QD Mount. Instead you'll find a short blade at the tip of the scope for use with the optional back-up sight ring included in the package.
The sight reticule is a standard non-illuminated black cross hair. The image is very crisp and aligned with the body of the scope. No tilting from cheap half-assed construction. My eyesight is a bit off but there appears to faintly be drop-off markers just below center of the cross-hair.
The site comes standard with a picatinny mount with the usual thumb screws. The thumb screws appear to be a fiber reinforced plastic though they feel pretty solid and tighten down for a nice snug secure fit on the rail. I had originally ordered a riser mount to go with the sight because my M4 had the standard triangular front sight. Though once I put the scope on the rail, the M4 front iron sight was not visible in the scope. eye relief for me is about 2 inches. with the stock set on position 5 it is very easy and comfortable to acquire a clear sight picture.
I found the mini red-dot to be rather small and dim. It also sits quite a bit high on the scope. I initially decided to remove the mini red-dot and use the included iron sight ring. Changing out the red-dot for the iron sight was really simple with small torx bit and small allen wrench. I had the iron sight in place in just a couple of minutes. After a few skirmishes I found myself not using the iron sights at all. They just felt cumbersome and harder to acquire a target. I either found myself going back to the scope or just aiming down the barrel using my stream of fire and correct as needed.
The included mounting bracket allowed me to convert the mini red-dot to a separately mountable sight. I've placed it on my MP5. I found this to be a really neat feature which basically gives you two sights for the price of one.
Changing the battery on the mini red-dot uses an allen and removing the same screws that hold the red-dot to the mounting plate. One downside to the red-dot is that it does not have an on/off switch. You need to remove the battery to power it down. The inclusion of a switch would make this less cumbersome.
Overall this sight is pretty solid, gives a good clear sight picture and is basically 2 sights in one. This is definitely not a sniper scope. The zoom is only 4×32 which is ideal for checking for targets and clearing the bush before you move up. The mounted mini red-dot helps to engage the target that was acquired with the 4×32 scope. The dot could be a little bit brighter and definitely needs a power switch.
I'll give this scope a 4 out of 5 for it's construction, mounting options, cost and the ability to remove the mini red-dot.
Some more photos with the additional riser mount.
Systema Energy Series.
Mon Feb 01, 2010 5:40 pm // 1 comment // Votter
So I decided to order a GB worth of systema energy parts. The first thing I did was weigh them against the existing parts in my gun.
(The weight on left is the original and on the right is the systema energy.)
Spring Guide——10 grams (unknown)——————————15 grams
Cylinder Head—–27 grams (I think CA)—————————–9 grams
Cylinder————9 grams (Systema Type 0)———————–9 grams
Piston————–12 grams (systema polycarb)——————-(Systema energy became out of stock and is on back order)
Piston head——-10 grams (systema duracon)——————–10 grams
Tappet Plate——4 grams (I think CA)——————————-4 grams
Air nozzle———-0 grams (No idea)———————————-0 grams
Metal Bushings—0 grams for one bushing/1 gram for all——–0 grams for one bushing/2 grams for all
Spur gear———19 grams (CA)————————————–19 grams Torque up ratio
Bevel gear——–16 grams (CA)————————————–17 grams Torque up ratio
Sector gear——-25 grams (CA)————————————–20 grams Torque up ratio
Pinion gear——-(I could not remove the pinion gear)———–1 gram
Spring ————-Using the same Systema M120 so I did not weigh it
Final Gear Box weight (using a CA V2 (I think it's re-enforced))—–539 grams——524 grams
Weight change: 15 grams. Not a massive difference like I was expecting.
Quality: All the parts come in the systema plastic box with foam surrounding the part. Some of the boxes came dented but none of the parts were damaged.
Other: The gears came with red caps on the rods and they came pre-shimmed. The pinion gear can with a set screw and an hex key with instruction saying to put the set screw in then apply heat to make the adhesive work. The cylinder head came with 2 different O-rings, a white and black one. The information sheet that came with it says the black O-ring is for temperatures of 5-40 degrees Celsius and the white O-ring is for temperature below 5 degree Celsius. And it warns that if the white O-ring is used in warm weather it will break.
Pictures will be up tonight and I need help on removing the pinion gear from a KWA motor because I wont get to test how it all works until I switch the pinion gears.
ebaybanned aimpoint micro+replica larue high mount
Sat Oct 31, 2009 6:15 pm // 0 comments // Rock
The sight itself is decent, no ghost dot, and works just fine. Certainly worth the money.
However, the high mount is either a little small for my King Arm's receiver's rail, or the rail is too big for the mount. I had to really jam it on there to get it on, if I were taking it off any time soon I might be in trouble.
Overall the whole set is easily worth the $65 I paid for it.
Firefox 11.1 lipo.
Mon Sep 14, 2009 6:47 pm // 9 comments // IsLaPJo0
http://www.airsoftpost.com/firefox-111v … 29681.html
Just to start off I would like to say this battery is worth every penny.
I decided to run it in my saw just to see the rate of fire. I produced I would say about 23 bps.
It consistently runs at 12c discharge and the voltage goes up and down.
I got my voltage up to 14.1 volts which is typical for a lipo to run 2 or 3 volts higher.
This battery takes a long time to wear down and when it does MAKE SURE it does not hit less then 3 volts.
The battery fits in most places on usual guns and for a M16 that the battery goes into the hand guard I would get a 3 piece lipo.
The battery that it comes with is a Esky balancer and it comes with a car battery charger adapter.
This would NOT fit in any Ak47's that fit into the body top.
It also comes with a Mini type tamyia connector. Dean's connectors would be recommended due to the fact that they are high voltage connectors.
-Matt
POM Grenades – Coming to a 203 Barrel near you!
Sat Mar 07, 2009 3:29 pm // 5 comments // Binky
Duece had two of these bad boys in stock @ G&L yesterday. Holds 54 6MM bb's and 6 8MM bb's. Self Resetting too.
Much to my Dismay it doesnt fit in a Madbull Launcher due to the circumference. It fits fine if I use my full length CA M203 though. I'll be using that tomorrow on my newly rebuilt M15 SPC.
Ajax Custom's Shock Transfer System (STS)
Tue Dec 09, 2008 9:43 am // 17 comments // severed
Got these in yesterday, they are surprisingly small. I mean I knew where they were supposed to fit but the pics make them seem larger than they are…
First impression:
Small, very well made. No fancy packaging just the unit, an allen wrench in a plastic zip top bag with a sticker saying Ajax Shock Transfer System, blah blah blah
Installation:
CA M4 CQB Seal body, hop-up unit and gearbox. G&G outer barrel & those little gears on the hop up
Fitting in my CA required some effort. First off my hop unit needed some filing on the sides to get it to slide on. Also the top left corner of the STS needed to be filed down as well, due to the interior shape of the CA upper. Luckily the paint of the body and the anodized coating of the STS will show you where you need to trim, file, dremel. Since I had the files out I ran a small flat file along the front of the gearbox where it contacts the STS to be sure it had a flat mating surface and there were no casting marks or burrs hampering a solid fit
Next I couldn't get the unit to sit flush with the front of the upper receiver. Upon further inspection it was because the outer barrel I'm using is from a G&G and sticks into the CA body about 2mm past flush. being impatient I pulled the outer barrel out and employed my angel grinder to make this a quick fix. Got that all back together, loosened the set screws on the STS and got the upper and lower receivers to mate back up with the body pin being a real tight fit. looked inside the magwell as they instruct to tighten the set screws and found that hmmm, can't see the set screws because the CA lower actually hugs the hop unit, awesome. Pulled the pin to take it back apart. I did some fiddling and found that in my gun the pins on the STS are actually getting pushed all the way in and are actually not really serving a purpose as the unit itself is sandwiched in between the front of the gearbox and the body. I depressed the pins and tightened the set screws and reinstalled. again a nice tight fit of the body pin insured me that everything was good. plugged the battery up, maybe it was placebo but the gun sounded a bit more solid. I can feel more impact vibration on the RIS than I can on the lower receiver. Does that mean it's working? You know transferring the shock to the body and outer barrel? I'll say yes, that's exactly what it means…I guess, lol
Installation (cont.)
King Arms M4
Next we installed one in BMC1979's King Arms. Fit on the Hop up without any filing at all, bastard! His KA is one of the versions that had the function bolt release that releases the little cover to shroud the hop up gears, yeah, that doesn't work anymore as he had to modify/disable/remove some piece of plastic to let the STS fit.
The KA magwell did not have the material around the hop up which was a good thing because he needed to access the set screws as the small brass pins on the STS did need to be extended a couple mm's to make contact with the receiver.
—————–
Conclusion:
This can be installed in a few minutes as it was with the KA or in about an hour which I needed on my gun with the filing, grinding, fitting, etc . As for performance, my testing phase will begin this weekend at OP: Mountain Conflict and continue through out the winter playing season here in New England. All in all there will be 5 of us running these in different guns.
My findings will be based solely on the experiences with my gun.
CA M4 CQB Compact Seal turned to Mk18 MOD0, M120, ball bearing spring guide, ball bearing piston head, CA yellow piston, metal Cylinder head with sorbothane pad (custom cut, 1/8′, durometer of 70), Stock CA gears, CA high torque, high speed motor, Systema shims, Intellect 9.6v 4200mah, deans. 370fps and 24.5 RPS on a chrono, not that PC audio analyzer software. Built by me, I've only listed the components that directly impact or house the moving parts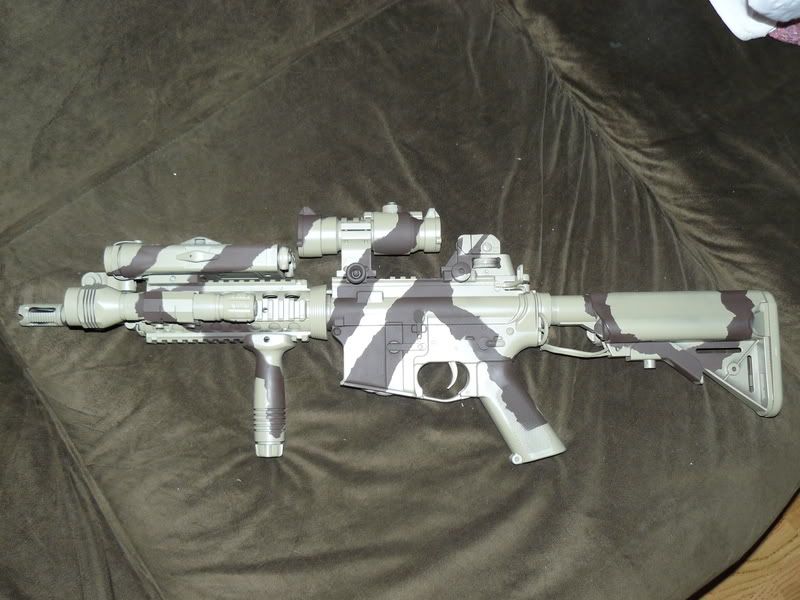 Check back for updates and more airsoft upgrades reviews!