Airsoft CT Supports Connecticut Airsoft Fields!
Looking for Intel on Connecticut's LEGITIMATE Airsoft fields?
Look no Further. Connecticut now boasts 2 indoor CQB Urban Combat Airsoft Fields along with 3 outdoor airsoft fields across various sections of the state.
Cromwell CQB Airsoft: Indoor Urban Assault/CQB Airsoft Field
CT's first indoor CQB Airsoft field and also an airsoft store, right in Cromwell on Rt 99! Cromwell features an indoor Urban Assualt CQB airsoft field that changes lay outs weekly with moveable buildings, changeable lighting and a soundscape playing through out.  There are camera's all over the field providing video footage to the storefront and lobby so people can see the action.  The referee's have a raised platform above the action to enforce safety rules and handle any issues with poor behavior.  Games are typically dictated by the customers wishes.  For example, semi auto only games, full auto, shotgun and pistol only, ect.  Action is fast paced and more akin to laser tag.  A great stress reliever if you want to just get a fun shoot em up style airsoft game out of your system.  Their FPS limits are 380 with .20's.  Please use common sense with lasers and full auto gun fire, especially up close.  Full skin coverage is HIGHLY recommended due to engagement distances of roughly 12 feet at times.  They offer a store with every supply needed to play and rentals for those who have nothing.   Private parties are currently held for a small fee.
Their facility is already 9000 square feet and they'll be more than doubling it with a room clearing CQB section meant to appeal more to MILSIM/SWAT style airsoft players.  Once this occurs, they'll easily have the biggest and most diverse CQB airsoft facility in the state once again.  PM CCAirsoftLLC for more info!
Fields of Fire is both Airsoft and Paintball oriented.  Their outdoor fields offer a variety of play styles across roughly 50 acres of land, right of I95 in scenic Mystic Connecticut.
Final Shot Paintball now is doing Airsoft, Coming from its debut in Novemeber of 2013 the field takes use of the current paintball field but also 30 acres of undeveloped land for the future development of cities that will reconstruct Foy complete with tanks that will be armed with pvc cannons, a beach that will be used for games that reenact Guadalcanal, A massive Open field that will be used for Civil War, AIrbourne drops and much more. We have a massive hill that needs to be captured in some games that will require team work to maneuver up the trench system and get past the forts that guard the hill from attackers once the hill is captured work your way into the abandoned compound through, trailers, trenches, forts and barricades. Most of our games will consist of video games, movie and ww2 inspired conflicts. We will also have Party Rock Airtsoft speedball nights that pay honorary respect to the now closed Reload. It will feature disco lights, colored rope lighting, christmas lights and dubstep over a PA system. We at Final shot are all about safety FPS is 400 with .25s and we require some sort of full face protection ( Paintball mask, Goggles and Lower Meshmask or a smaug covering the face with googles) We are also all about you and if you have ideas for games submit them to use we will incorporate your ideas into our games. Prices are 15 for skirmishes and 25 for ops
Ground Zero Airsoft: Outdoor Airsoft Field and New Urban Assault/CQB Indoor Airsoft Fields
CT's longest running Airsoft store now features a centrally located 50 acre Airsoft only field in Wolcott, Connecticut, with several villages, a Vietnam style firebase and several bunker systems.  Gaming is every Sunday with special games being held on Saturdays.  60-100+ person airsoft games are the norm here with various skill and experience levels.  The outdoor field requires full seal googles for those under 18 with paintball masks for recommended.  The terrain is hilly with THICK brush that's difficult to shoot and see through.  There is a 400 FPS limit on all airsoft guns with .20 gram airsoft bb's.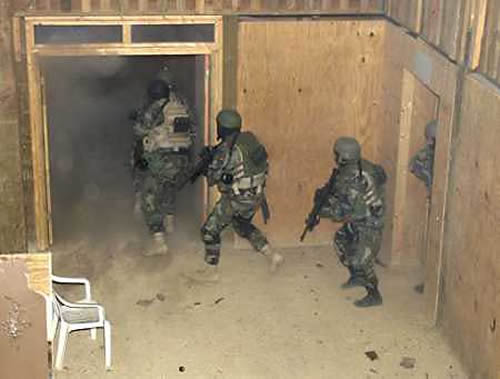 They've also recently expanded with a new 11,000 SQ FT indoor CQB urban combat airsoft field right off exit 25 on I-84 in Waterbury!  This features various themed areas from an office area, to a gas station with pumps and cars, to an village with houses, a medical office, and finally a bank with a hidden passage behind the vault door.  The field features plenty of tight corridors with twists and turns, rooms to clear, ect.  This is a squad based environment and only groups moving like a fire team should breach a room, will do well here.
This indoor Urban Assault and CQB airsoft field requires FULL FACEMASKS for minors, and full seal goggles for every one else.  You are not allowed to use shooting glasses under any circumstances.  FPS is limited to 350 FPS  with .20 gram airsoft BB's.   This airsoft field allows semi automatic only inside, so be sure to check your fire selector before starting every airsoft game.
Field fees are accepted at their
CT based airsoft store
in the same plaza.  Every airsoft supply you could need is a 5 minute walk across the parking lot to the store.
Click Banner above or Private Message Lester for more info!
Strategic Compound: CT's Largest Outdoor Paintball and Airsoft Field
Originally the old Strategy Plus, Strategic Compound has offered paintball and Airsoft Field since the early 1980's.  Operating just off Rt 66 on Bear Swamp Road in East Hampton, Strategic Compound offers fields for speedball (paintball use), and 165 acres of woods, ravines, swamps, streams, heavy brush and open areas.  The terrain is extremely hilly with the highest point being along the road coming in and the lowest probably 100+ feet lower in elevation.
Strategic Compound features trench systems, a massive hill top castle fortress, defensive positions on top of hills, an Old West style village, mock artillery pieces, an old SUV used as a tank, a village and several other structures and defensive positions across their entire field of play.   Games here can easily host 200 people and still have moments where you don't see anyone.
Strategic Compound requires all guns be under 400 feet per second with .25 gram bb's.  Considerations are made for snipers that are 18 and over and can demonstrate that they can keep beyond a minimum engagement point of 100 feet.  Pistols are required for room clearing, or you can do so with your airsoft rifle, as long as your magazine is out.  You will be forced to safety kill however if you do so and the chances of that happening are slim.
Kids under 18 require full facemasks, with those over 18 requiring full seal goggles.  Airsoft Games are held every two weeks, with special big airsoft games being played usually once a month.  Summer time brings in a few weekend long games with camping free on site.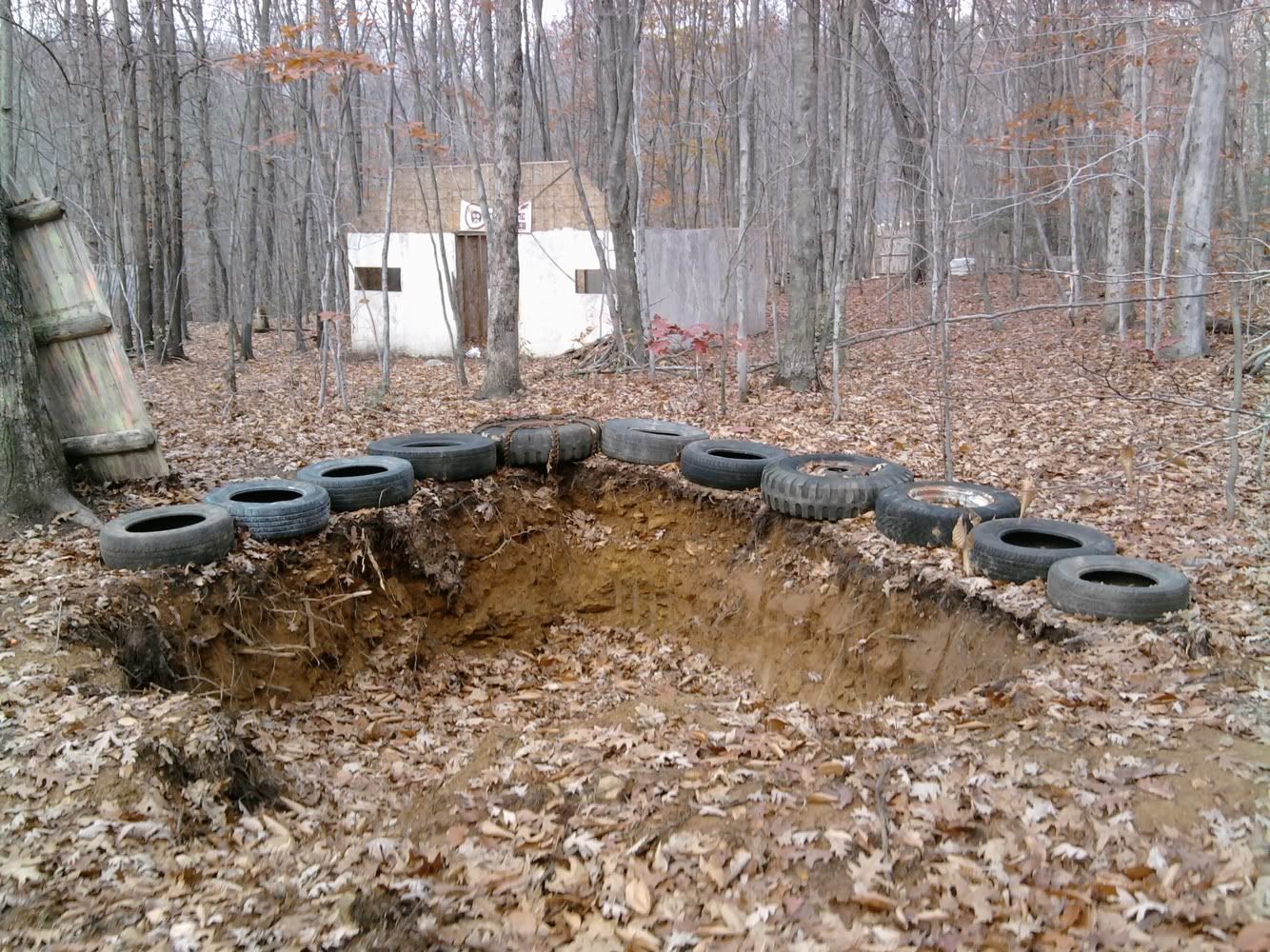 Click Banner above or Private Message Strategic Compound for more info!
Want to submit your Connecticut airsoft field?
Want your airsoft field added to the Connecticut Airsoft Field list? Contact Us with your field information.Please include field name, Contact info, URL and banner if applicable. Please keep all banners between 250 pixels high and 400 wide. Thank you! ALL FIELDS LISTED MUST BE LEGALLY OWNED AND INSURED LAND FOR USE WITH AIRSOFT REPLICAS AND MILSIM OPERATIONS! WE DO NOT CONDONE OR ENCOURAGE USE OF PUBLIC LANDS FOR AIRSOFT FIELDS OR USAGE!