This is my second piece of gear by TAD that i own, and like the rest of their stuff, it is top notch.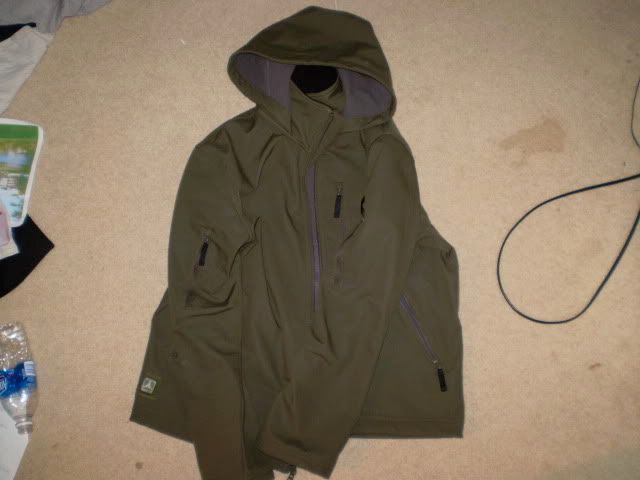 I have a Shark skin Stealth Hoodie that i got about a year ago from TAD that i really like. A soft shell is essentially a Wind proof, water resistant, breathable layer. I really like my Stealth Hoodie and its perfect for layering which is exaclty what its made for. But, the velcro and no liner was a bit of a turn off for me. I wanted something that i could wear as a stand alone jacket that worked like a softshell but was more casual for school and around town.
The Robin Hoodie is exaclty that. It comes with all the normal awesome pockets that i like with some extras. There are two arm pockes, a chest pocket, two handwarmer pockets (something the Stealth lacked), and two lower back pockets. The arm and chest pocked also have rubber groments in them for wiring an ipod earbuds or the like.
The Robin Hoodie, is fleece lined in the jacket and in the hood. The front zipper zips the jacket all the way up to your chin, almost like a turtleneck. It is also wind proof and water proof like most softshells, but i do not think it is as breathable. The fleece liner kinda prefents that i think.
Some Cons, the lack of pit zips is really kind of a turnoff for me. I feel like it gets a bit toasty in there when doing any bit of movement and there is no way to really let some more air in. That is the only real flaw i have with it. It is also cut a bit different that the stealth hoodies. Its cut smaller because it is a stand alone jacket you dont have to factor in for layering. I wear a size large in the Stealh Hoodie and my Robin Hoodie is a medium.
I would give this a 5 out of 5. It really fulfilled everything i was looking for in a casual soft shell jacket.

_________________
A pirate's life for me
I won't go quietly



Ghost wrote:

I teabagged all of your mags




sonjamichelle wrote:

(Hey the boobs are good for something!
).